STEVEN RIVELLINO has been lecturing worldwide on theatrical production and entertainment management for over 25 years. In his popular two-part series The Business of Broadway, he discusses how shows are produced and how commercial theatre has changed over the years, and why— focusing mostly on Broadway and the influence of London' s West End.
His "Signature Presentation" is considered by many to be

Radio City Music Hall - The Showplace of the Nation

, in which he shares his extensive knowledge of America's greatest theatre from ten years as its Vice President and General Manager.




The illustrated story of America's Greatest Theatre.
A
dditional presentations feature the lives and times of some of the world's greatest innovators in the arts... see below for specific lecture titles.

Customized presentations are always available.

STEVEN RIVELLINO is a featured lecturer and seminar leader with The League of American Theatres and Producers' BROADWAY SPEAKERS BUREAU.

STEVEN RIVELLINO has lectured for New York University, New York City College, Montclair State University and The Princeton Club... and is a popular featured-lecturer onboard numerous cruiseships worldwide including: Seven Seas Splendor, Seven Seas Voyager, Seven Seas Mariner, and Seven Seas Navigator; Silver Spirit, Silver Muse, Silver Wind, Silver Whisper; Viking Star; Viking Sea; Queen Mary 2, Queen Elizabeth, Queen Victoria; Crystal Symphony, Crystal Serenity; Oceania's Regatta, Nautica, and Insignia; as well as onboard Queen Elizabeth 2, Seabourn Legend, Seabourn Pride, Seabourn Spirit, Seabourn Sun, Sagafjord, Vistafjord, Saga Ruby.

Onboard Queen Mary 2 - Photograph by Andrzej Dziedzic
| | |
| --- | --- |
| THE BUSINESS OF BROADWAY - Follow The Money | The Business of Broadway - Part Two |
| | |
| --- | --- |
| London's Theatre Capitol | An illustrated look at the true Berlin Cabaret Culture |
| | |
| --- | --- |
| A media-filled journey into the life of the French singing legend. | BOB FOSSE - The Man and His Stage |
| | |
| --- | --- |
| IBSEN & GRIEG - The Words and Music of Norway | ARTHUR MILLER and MARILYN MONROE |
| | |
| --- | --- |
| THE PHANTOM AND HIS PARIS OPERA HOUSE - The Truth. The Legand. The Legacy. | American's first and only nuclear-powered passenger ship - a keen symbol of America in the 1960s |
| | |
| --- | --- |
| An illustrated study of the dramatic techniques of the Russian State. | The Business. The Money. The Future. |
| | |
| --- | --- |
| The Soul of Argentina | Backstage Stories and Q&A |
| | |
| --- | --- |
| The Mystic. The Music. And the end of Imperial Russia. | Fryderyk Chopin - Poland's Cherished Son |
| | |
| --- | --- |
| Fryderyk Chopin - Doomed Genius | |
Speaking Schedule 2022 — 2024
| | |
| --- | --- |
| VIKING SEA July 21 - August 10, 2021 - Malta, Croatia, Greece | SILVER MUSE - August 29 - September 9, 2021 - Alaska |
CRYSTAL SYMPHONY - October 8 - 15, 2021 - Bermuda
Guest Speaker. April 12, 2022
QUEEN MARY 2 - July 15 - July 29, 2022. Southampton - Mediterranean - Southampton
| | |
| --- | --- |
| July 31, 2022 - Marriott Marquis Hotel and Meeting Center, New York, NY. "The Business of Broadway"- a special presentation for the Institute for Training and Development (ITD), sponsored by a Grant from the State Department of the United States for a 5-week study tour of the United States for 18 economists and business school faculty from several global countries. The objective of the study tour was to expose participants to current topics on U.S. business and economics. | |
SEVEN SEAS NAVIGATOR - August 24 - September 9, 2022 - Barcelona to New York
To Join STEVEN RIVELLINO on any of the following lecture voyages or seminars, simply CLICK on the appropriate photograph or icon for more information.

Tuesday, November 29, 2022
Wednesday, February 15, 2023
VIKING VENUS August 19 - September 2, 2023 - "Viking Homelands/Baltic"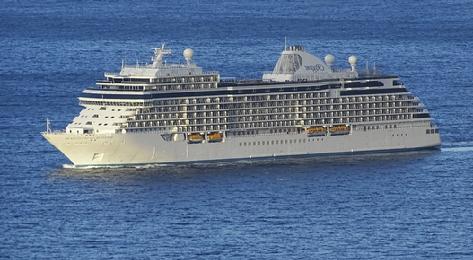 SEVEN SEAS GRANDEUR - "Maiden Transatlantic Crossing" - November 25 - December 9, 2023 - Barcelona to Miami
SEVEN SEAS SPLENDOR - December 20, 2023 - January 10, 2024 - Lima to Buenos Aires
VIKING VENUS "Viking Homelands" June 28 - July 12, 2024
VIKING VENUS "Viking Homelands" July 12 - July 26, 2024
Dear Steven,
On behalf of Karine, James and all of us here at Viking TV, we'd like to say the biggest thank you to you for kindly joining us to record your very insightful talk on Ibsen & Grieg; it was broadcast on Viking TV last night.
Your presentation was an education... for not only our audience, but for me as well. Your passion for music and history really shined through!
We received lots of fantastic feedback from the audience who definitely enjoyed the lecture being broadcast. I for one never knew the origins of Hall of the Mountain King.
It's been a pleasure to work with you on this, and we look forward to welcoming you back onboard again soon.
Best Wishes
Scott
— Scott Bennett I Viking UK I Viking.TV Production and Marketing
May 25, 2022
"I would like to thank you for all these years together and for your great professionalism in delivering a bespoke program to our Guests.

"
—

Antonio Marangi
Director, Entertainment and Enrichment
Silversea Cruises, Monaco.

"
I really enjoyed your presentations on the Viking Sea... especially the two programmes on Havana and the mob. I was always curious about the recent history of Cuba and you have beautifully and intelligently filled that void."
— Brian Livesey
Guest - Viking Sea
August, 2021
"
I so enjoyed meeting you and absolutely loved your lectures. If my professor in college had taught as well as you, I might have garnered an 'A' in Theatre History instead of a 'B-'!"
— Daria L. Dolan
Guest - Seven Seas Splendor
February, 2020
"
His presentations were as interesting and informative as the shows and topics he presents."
— Guest
Seven Seas Mariner
January, 2020

"I just attended the most marvelous presentation on (director/choreographer) Bob Fosse by Steven Rivellino. One of the best shipboard lecturers I have ever seen! We were so fortunate to have him as a speaker on both the Queen Elizabeth and the Queen Mary 2. His presentations are not only entertaining, but captivating and educational!
"
— Ricki Lyon le Vine
Passenger - Queen Mary 2
August 14, 2019
"ZOWIE!! Who did you have to pay/sleep with to get these kind of ratings and comments? LOL
THANK YOU for an EXCELLENT JOB!!!
When can you sail again???"
— Patricia Higgins
Manager of Enrichment Programs - Oceania Cruises and Regent Seven Seas Cruises
July 28, 2016

"I enjoyed your lectures a lot. I am sure you are aware that you attracted the biggest crowds on the ship. Impressive.
"
— Rolf Hess
Passenger - Queen Mary 2
July 25, 2016
"Your excellent lectures made the voyage much more interesting!"
— Cathy and John Canzanella
Passengers - Nautica
July 27, 2016
"I wanted to compliment you on your presentations onboard Queen Mary 2. Each of your talks was fascinating and of tremendous interest. It is clear that you love what you do and that you have the ability to transmit that passion for the theatre to your audience in a very entertaining and authentic manner."


— M. Lisette Kaplowitz
Passenger - Queen Mary 2
July 24, 2016
As you may have heard, I left Crystal [Cruises]... so, I'm reaching out to a select few to say thank you for all that you did during my 17 year tenure at Crystal. You were always great with our guests and with your multiple shows always running on Broadway, it gave guests a truly relevant and authentic experience. After all, how many people get a chance to meet a real Broadway producer, right? Of course, your passion for the entertainment industry combined with your charismatic personality and general zest for life made it a particular joy to those Crystal guests. So, again...thank you. Your efforts were certainly recognized and most definitely appreciated.


— Bret Bullock


Former Vice President of Entertainment, Crystal Cruises




February, 2016.



I have literally just had the Voyage Report in and you scored 87.1 which makes you our highest scoring speaker on this voyage, so thank you!
Best wishes until Christmas!
Kind regards,
Lucy
— Lucy Morris l Entertainment Booking Executive, Cunard Line Ltd.
July 24, 2015
"A short note of appreciation on behalf of Karen and myself for such a stimulating and enjoyable series of lectures. At one moment funny and at another poignant... but always compelling and interesting. Quite the best lecture series we have seen on any ship! Many thanks indeed."
— Geoffrey K (Fernando Beach, Florida)
Guest onboard Silver Spirit. April 24, 2015
"Excellent presentations and a real class act. His audiences grew throughout the cruise and I would suggest him as a must for any cruise. Rating: 9.2 – 108.21%"

Nolan Dean, Cruise Director, Regatta
January 21, 2014

"I
want to congratulate you on your brilliant lectures! They are the highlight of the crossing.
"
Elizabeth J., Passenger, Cunard Line's Queen Mary 2.
August 12, 2013
"It is always a pleasure to have you onboard Cunard ships.
Entertainment Director Ray Rouse... referred to you as an ideal choice of speaker for the NY - NY voyage and the guests rated you as 90%. Excellent news and a wonderful rating.
"
Tim Wilkin, Entertainment Programme Manager, Cunard Line Ltd.
January, 2013
[Email to Steven Rivellino, July 9, 2010]

" ... your spirited discussion and spectacular audiovisual presentation was just what I needed during the cruise. "
Yvonne S. Thornton, MD
Passenger - Queen Mary 2
July 1 - 6, 2010

[Letter to Steven Rivellino, May 25, 2010]

"It was a pleasure and a delight to see you last night. On behalf of The Princeton Club of New York, and myself, I wanted to convey our thanks for your speaking there last evening. It was a very successful and enjoyable event. As you know, the club's attendees are an intellectually curious group. You were surely effectual in satisfying that prerequisite. The audience was riveted and stimulated by your grasp of the facts, details, and very engaging delivery on the subject of The Business of Broadway. The information you presented was enlightening and fun.

I should also mention that I had many positive comments and compliments about you and your talk and your graciousness in answering the so many questions that were asked. All in all, it was a great evening!"
Very truly yours,
Trish Belfatto
Program Committee Member
The Princeton Club of New York

"Incredibly informative and entertaining lecture on Broadway..."
James Carville
Political Consultant, Author, Lecturer
onboard Crystal Symphony
July 2007

"The best we've ever had onboard."
Cruise Staff
onboard mv Saga Ruby
October 2009
"Just fastastic!"
Emily Walton
Enrichment Coordinator, Passenger Programs
Princess Cruises & Cunard Line
August 2007


"Absolutely perfect lecturer for this ship and these guests. Excellent programmes; always capacity attendances."
Ray Rouse
Entertainment Director - Queen Mary 2
August 2007


[Letter to Bret Bullock, Vice President, Entertainment - Crystal Cruises. January 16, 2007]

".. one of the absolute highlights of the cruise was attending the lectures given by Steven Rivellino. To say that myself and others were pleased with Mr. Rivellino's presentations would by an absolute understatement. ... I have attended many lectures on Crystal Cruises and I must say that Mr. Rivellino's captured my interest like no other. I only wish he could have been scheduled for more!"
David S. Coffee
Passenger - Crystal Serenity
January 2007


[Letter to Steven Rivellino, January 16, 2007]

"You do a terrific job on our ships and it is a pleasure having you as part of the team. We look forward to welcoming you aboard again very soon. Thanks, and best regards."
Bret Bullock
Vice President, Entertainment
Crystal Cruises - 2007


"Once again, you were the highest rated lecturer..."
Niklas Sardana III
Assistant Cruise Director - Crystal Serenity.
President - Compass Speakers and Entertainment Inc.
June 2008


"You were the highest rated; 9.7 out of 10. Just can't get any better than that."
Caroline Mathieson
Manager, Cunard Enrichment Programmes.
Julia Young
Senior Cunard Enrichment Coordinator
Cunard Line Ltd., Southampton
August 2008

"I'd love to have you come & speak at the Ocean Liner Council of South Street Seaport. You are such a wonderful speaker, with such enormous knowledge.."
Bill Miller
"Mr. Ocean Liner"
Maritime Historian, Auther, and Cruise Ship Speaker
December 18, 2003

PROFESSIONAL ASSOCIATIONS
© Copyright 2022 Eighth Sea Inc - Steven Rivellino Productions